Tensions are high in Kansas, where a ballot initiative could undo state protection for abortion rights.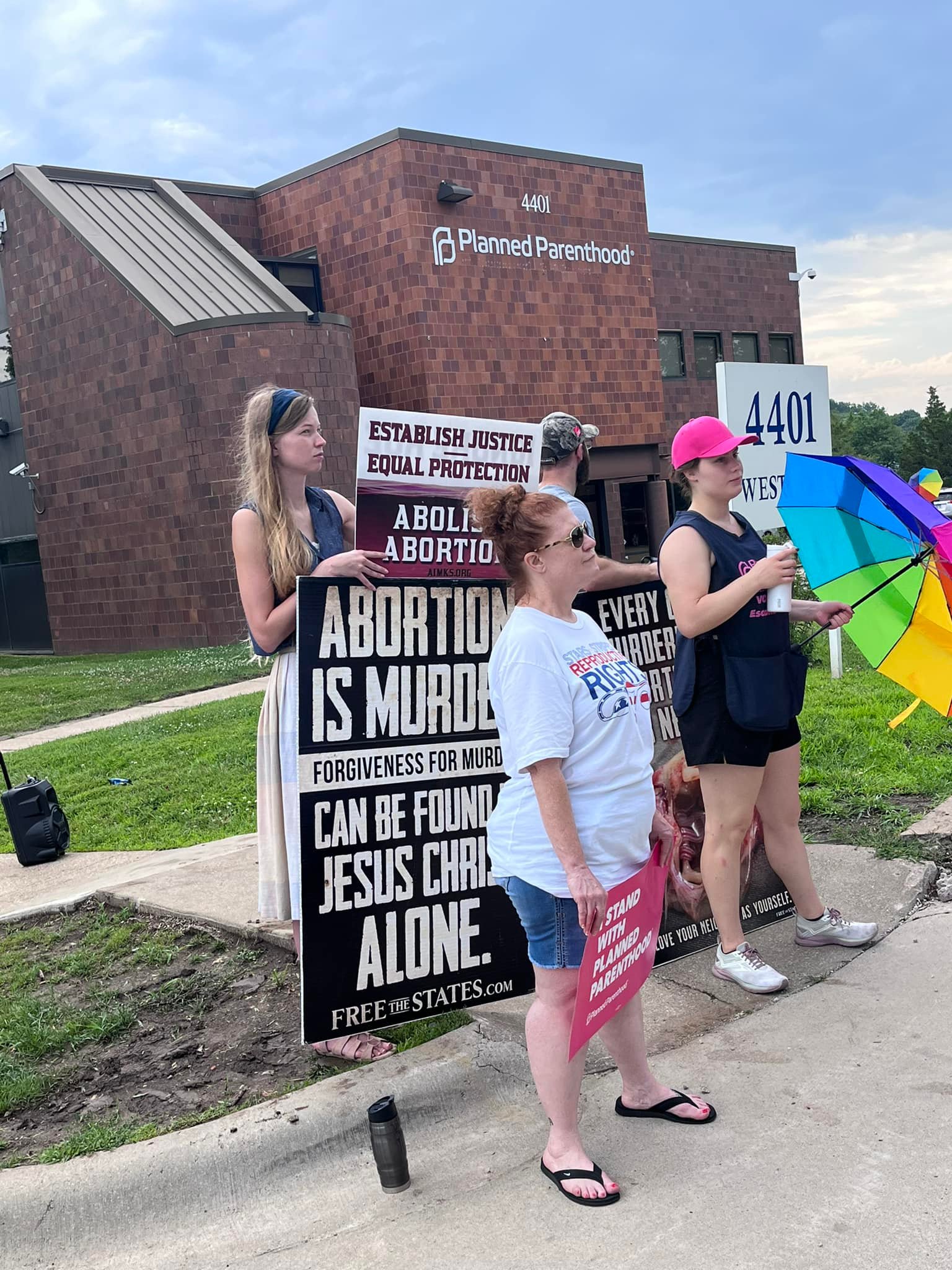 by Carey Gillam
Even before the Supreme Court decision on Friday that overturned Roe v. Wade, Kansas had become a haven for women seeking abortions from surrounding states where the procedure was severely restricted or outlawed. But that could soon change. A ballot initiative slated for an Aug. 2 primary vote would strip away that protection by amending the state's Constitution with a provision titled "The Value Them Both Amendment."
Kansas currently has five clinics that provide abortion services, which have drawn patients from Texas, Oklahoma and Missouri, according to Emily Wales, the president of Planned Parenthood Great Plains.
On Saturday, abortion rights protesters gathered at a clinic in Overland Park, Kan., armed with signs, microphones and loudspeakers, to show their support for the women making their way to the clinic doors. Close by, abortion protesters took up their positions, chanting Bible verses and begging women not to "murder your baby."
The scene was at times raucous with demonstrators from each side trying to outshout each other. One man wearing a black T-Shirt depicting a clenched fist held a megaphone only inches from the face of an anti-abortion protester who had his own microphone and amplifier. The two yelled insults at each other as the crowd of demonstrators around them alternatively chanted and waved signs. Quiet clinic volunteers tried to keep their distance as they carried rainbow-striped umbrellas used to shield women entering the clinic.
Holding a sign that read, "Love your preborn neighbor as yourself," Valley Scharping, 26, said he had driven roughly two hours from his home in Manhattan, Kan., to take part in what has become a weekend ritual for members of a group called AIM, an acronym for "Abortion Is Murder."
"We don't believe in moral compromise, and we don't want them to be guilty of murder," said Mr. Scharping, referring to the women entering the clinic.
Standing a few feet away and wearing a body camera, Abbye Putterman, 36, said she came to the clinic because she has a 12-year-old daughter. "I fear for my child," she said. "I worry that she isn't going to have choice."
Kansas is one of several states where abortion services were continuing unhindered on Saturday; in 2019 the State Supreme Court ruled that a woman's right to have access to abortion services was protected by the State Constitution.
But the proposed amendment states that "there is no Kansas constitutional right to abortion" and that Kansans have the "right to pass laws to regulate abortion, including, but not limited to, in circumstances of pregnancy resulting from rape or incest, or when necessary to save the life of the mother."
Kansas primaries typically don't see large turnouts, but the Aug. 2 vote on the abortion amendment is seen galvanizing people on both sides of the issue.
"We are on the front lines of a very divided America," said Ms. Wales, referring to Planned Parenthood Great Plains.
A group called Kansans for Constitutional Freedom is racing to register voters by the July 12 deadline for the ballot initiative vote. Kathleen Sebelius, a former governor of Kansas who served as U.S. Secretary of Health and Human Services from 2009 until 2014, is volunteering with the group.
"We have an opportunity to make it very clear that Kansas women don't want a government mandate on their reproductive health," she said. "I look at my 2-year-old granddaughter and realize she will be growing up in an era where she has fewer rights than her grandmother."
Lynn DeVoe, who attended the Overland Park protest and held an "I stand with Planned Parenthood" sign, said she didn't like conflict and had never before been part of a demonstration, but that she felt compelled to action by the Supreme Court decision. She said she would be working to convince others to vote no on the Aug. 2 amendment.
"I'm worried," Ms. DeVoe, 54, said. "I don't want it to get overturned here. I believe that we deserve the right to our own bodies. Do I want everyone to go and have an abortion? No. But do we have the right? I believe we do."
For Jackie Johnson, a longtime abortion rights supporter who lives in Mission Hills, Kan., the undoing of nearly 50 years of established law marks a dark return to a time she remembers all too well when a "coat hanger" was one of the best and only options for a woman with an unwanted pregnancy.
Ms. Johnson, 73, lived in Washington, D.C., in 1973 and remembers her feelings of satisfaction and joy when the Roe v. Wade decision legalizing abortion was handed down.
"It is something that we all grew up with and we've taken it for granted," said Ms. Johnson, who has spent years working with Planned Parenthood. "Younger people never understood what it would be like to have life without this choice, so this is a huge wake-up call for everyone. When your rights have been taken away, it really opens up your eyes."